Thank you for considering Frangipani Beach Resort for your upcoming getaway! After our temporary closure due to COVID-19, we reopened our resort for our 2020/2021 season beginning November 1, 2020. Per the Government of Anguilla, Phase 2 is in effect, and we're thrilled that this provides a much more flexible idea of quarantine. While a 10 – 14 day quarantine period is still in place, the definition of quarantine during this phase provides a much looser approach, allowing guests to enjoy the island experience upon arrival and we're thrilled to be bringing Anguilla to Frangipani with our new quarantine program. Please note that this is not a minimum stay requirement. Guests can stay for a shorter period than the outlined quarantine requirements but must abide by the policies set during the stay in place period. Here's what to expect during your first 10 – 14 days (depending on your point of origin):
✧ Guests are not confined to their rooms — you'll have access to the entire property, including the pools, beach, ocean, fitness center, and tennis courts. Please note that you will receive a test upon arrival at the ferry or airport in Anguilla. Guests must stay in their room or suite until this first test comes back negative — typically we find we receive results within 12 hours of arrival.
✧ Walking the beach is permitted within the boundaries of the Meads Bay 'Bubble', which extends from the western edge of our beachfront villa down to Carimar Beach Club. This represents about 2/3 of Meads Bay which can be used for beach walks and outdoor exercise.
✧ Straw Hat Restaurant will be accessible to our guests during their quarantine and the restaurant is available for breakfast, lunch, dinner, beach service, or room service.
✧ We have access to our boats! For Frangipani guests only, that means access to our complimentary water sports, plus access to boat trips aboard FrangiCat, which allows us to take guests to Prickly Pear for a special off-island cay experience with a beach BBQ lunch.
✧ You can visit approved 'bubble restaurants' by certified taxi on the restaurant's specified days, effective November 4, 2020. A number of independent restaurants will be offering certain days each week for guests in any 'bubble' to visit and dine in. Reservations 24 hours in advance are generally required (our front desk can assist). The majority of resort restaurants are also part of the 'bubble' system for guests to visit, so restaurants at Cap Juluca, Cuisinart, Four Seasons, and others will be available to Frangipani Resort guests with advanced reservations. Independent restaurants with 'bubble' options include Ember, Blanchard's, Blanchard's Beach Shack, Picante, and Mango's.
✧ Pre-arrival provisioning, plus twice-weekly provisioning is included for all guests. Prefer to eat in? We can help stock your suite with food, wine, and spirits prior to arrival and assist with stock-ups twice per week. All of our suites are equipped with kitchen facilities to allow a home-away-from-home experience.
✧ In addition to 'bubble restaurants', many restaurants on the island are open and offering delivery — a perfect way to enjoy some of your favorite places and menu items right at home! The resort will provide new poolside or rooftop dining options for enjoying your to-go meals with an extra-special view of Meads Bay.
✧ SCUBA Diving with Shoal Bay Scuba has been approved on a private basis only with pick-ups in front of Meads Bay.
✧ Beginning November 14th, the golf course will reopen and will have designated days each week for guests in quarantine with a government-approved taxi transfer. (Golf course will be closed effective March 2021 due to new ownership.)
✧ Private yoga sessions are available, designed in a socially distant way in an outdoor setting.
✧ Beginning early December, Tradition Sailing is approved to serve quarantine guests on a private charter basis. Our concierge can assist with getting you scheduled!
✧ Board games, card games, and beach games for guest use.
Once your quarantine period is completed, you can enjoy the island at leisure with no restrictions in place.
Ready to head to Anguilla? Currently, guests need to apply through the government portal for their upcoming stay — turnaround time is generally fast; within a few days of submission. You'll see that Frangipani Beach Resort has been formally named a 'government-approved isolation facility', where you can stay for your quarantine period and beyond (please inquire about long-stay package options if you're interested in staying more than two weeks).
An application fee is in effect depending on your length of stay, and testing protocols are in place. A PCR test is required 3 – 5 days prior to arrival, then again upon arrival, and upon completion of quarantine. Your application fee covers the costs of these tests.
👉🏼 Download our Step-by-Step Guide here!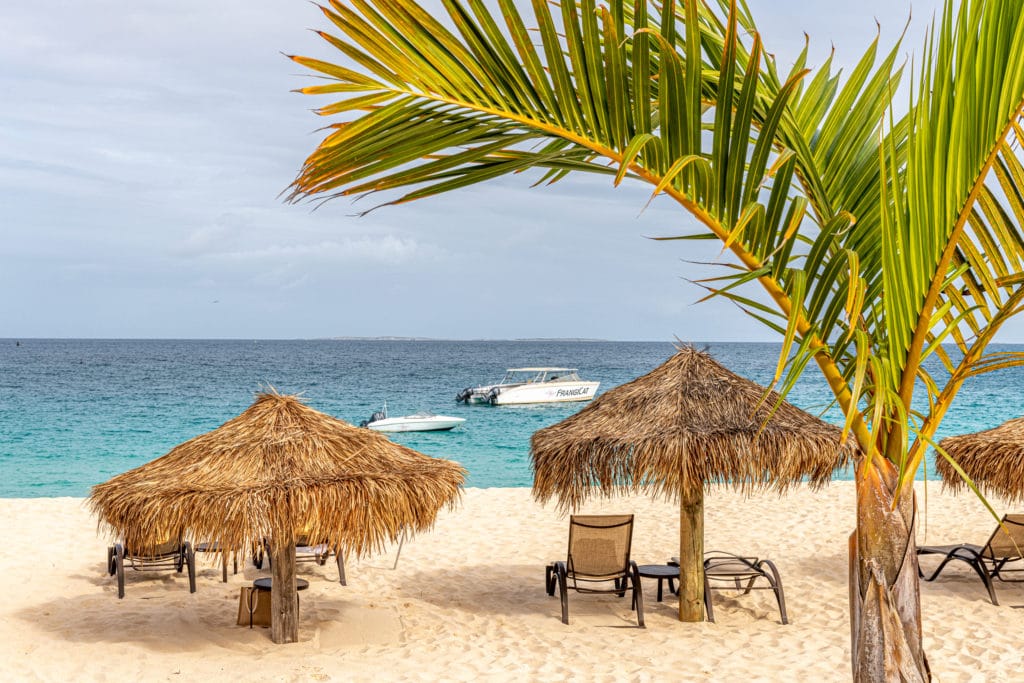 The past number of months have undoubtedly highlighted our interconnectedness as a global community and now, more than ever, we look forward to reopening our doors and welcoming guests back in a safe and managed way. As always, our top priority is to ensure the safety and well-being of our guests and our team as we follow guidelines shared by international health organizations and the global hospitality community.
We continued to monitor the situation with Coronavirus (COVID-19) globally and have implemented some new measures to create a welcoming environment that takes heightened health and safety protocols into consideration. We have always taken great pride in maintaining the highest standards of cleanliness and hygiene at our resort. We have heightened our protocol with some new cleaning technology, some additional measures, and some new offerings that we hope will make your stay enjoyable from start to finish.
More specifically, you'll notice the following measures and practices in place during your upcoming visit: 
✧ Our team will be receiving ongoing briefings and training from our local health representatives
✧ Pre-arrival check-in procedures will largely be done electronically to allow us to receive key information before you arrive, reducing touch points and speeding up your check-in process
✧ A heightened cleaning and disinfection program using new fogging equipment will be used in rooms between guest stays
✧ Increased frequency of cleaning and disinfection of public areas
✧ Hand sanitizers and disinfecting wipes will be readily available in public areas
✧ A plan of action has been developed in case of a Coronavirus incident
We will continue to update this page with the latest information regarding travel safety, hygiene protocols, and island policies for your reference. We know there's still uncertainty with travel but we look forward to restarting tourism on the island of Anguilla. If you have any specific questions, please email our team to learn more about our policies and procedures.
For more information from the Government of Anguilla, please visit www.BeatCovid19.ai
✧✧✧